Conveniently charge at home or on the go!
It's hard to beat the convenience of charging your EV at home or at work. And with many ways to charge, including using your existing 3-pronged electrical outlet, you can pick the way that works best for you. Scroll down below to learn about the convenience of driving electric.
#FFFFFF
There are three types of charging options available to EV drivers: Level 1, Level 2 and DC fast charging. Each type comes with its own benefits—Level 1 charging requires no additional electrical work, Level 2 charging is most convenient for at-home and at-work charging, and DC fast charging is intended to get you back on the road quickly during longer drives. These options give you the flexibility to pick the best charging solution for you.
#FFFFFF
Level 1 charging (home)


Most EVs come with a charging adapter that plugs right into your standard, 3-pronged electrical outlet. This type of charging will add 3-5 miles of charge per hour and is great if you drive under 50 miles per day.
Level 2 charging (home or public)


Level 2 charging uses the same amount of electricity as your clothes dryer and can add 20-45 miles of charge per hour, depending on your vehicle. You'll be fully charged from "empty" in approximately 6-8 hours. Most electricians can install a Level 2 charger for you, either in your garage or outside near a parking pad or driveway. You can also find public Level 2 charging throughout the state of Colorado.
DC fast charging (public)


Fast charging is a great option when you are driving longer distances. You can expect to regain a significant amount of charge in as little as 20-30 minutes, the perfect amount of time to go to the restroom and grab a bite to eat. The charging speed of most EVs typically decrease the closer the vehicle's state of charge gets to 100 percent so many EV drivers only recharge to 80 percent to get back on the road quicker.
#FFFFFF
Charge At Home or At Work
Nothing beats the convenience of charging at home or at work, where 81% of all EV charging takes place. Simply pull up, plug in, and go about your day or evening knowing that while your car is parked, it is regaining charge much like your cell phone would. Say goodbye to standing in the cold while you fill up at a gas station, or a rushed commute to work when you realize you need to detour because the tank is almost on "E!"
Not only is charging at home cheaper than the cost of gasoline, but charging overnight increases the likelihood that the electricity is coming from renewable resources as there is often more wind energy available at night. If your utility has lower priced electricity during off peak periods, you can save money, too. Just plug your EV in when you get home and begin charging later in the evening.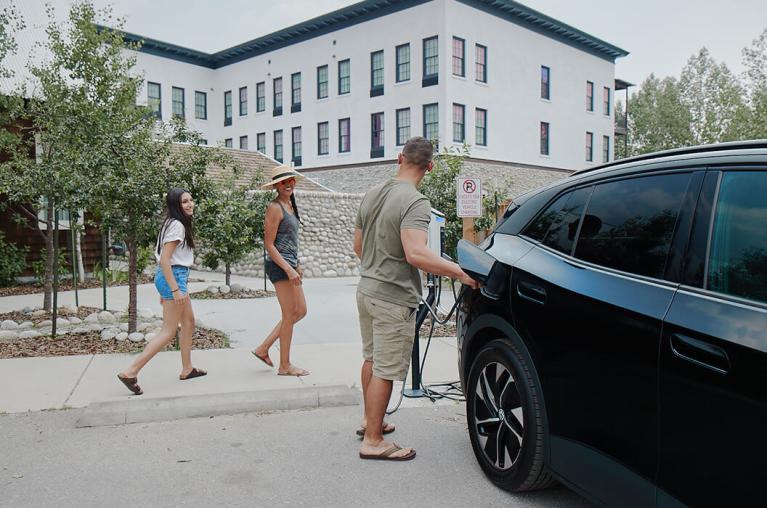 #FFFFFF
More than 4,800 Charging Plugs in Colorado
For those who don't have access to at-home or at-work charging, or when you're on the go, relying on public Level 2 and DC fast charging can be a practical option. These stations are increasingly located within communities at grocery stores, big box stores, retail districts, and in parking garages. They can also be found along the major highways that connect our communities. 
While there are several apps and websites like Plugshare that can show you where public charging is located and help you plan your next trip, most EVs can direct you to public charging stations seamlessly via the vehicle's navigation system. When you put in your destination, many newer EVs will consider your current range and length of trip, to automatically route you to a charging station along the route!